The Collars & Harnesses That We Use At The Moment
I'm often asked about the collars and harnesses we use for Josie and Edie and it wasn't until Josie bounced into our lives did I realise just how hard finding a good collar is for a sighthound. They have specific requirements with their longe necks and small heads and using any old dog collar often isn't quite what they need. There are lots on the market, some good, some bad and some insanely expensive and it can be difficult to know what's going to actually work for your dog and what will end up in the cupboard unused. Having something that's hardwearing, washable or wipeable is key for us whilst the girls are young and like to run around like loons rolling in stinky stuff and these are collar and harnesses that have passed our tough standards.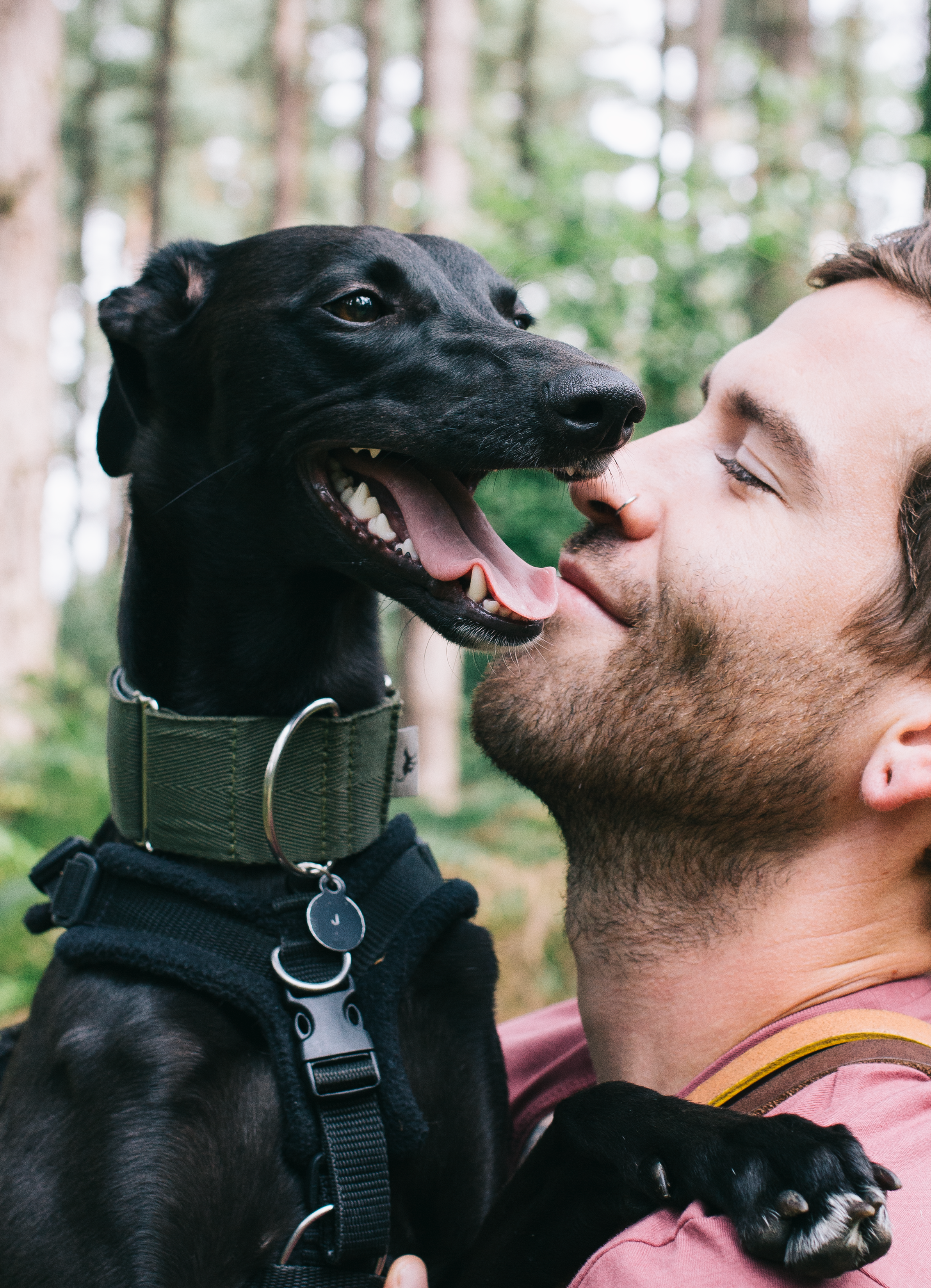 brindle & whyte extra wide FINNSTOWN olive martingale
We went through a lot of collars before I finally gave in and purchased this one which is the one that I wanted in the first place (lesson learnt, buy what you think is best first instead of last). I bought this last year for Josie when Edie arrived into our lives as a little treat for her and it's easily one of the best collars I've ever bought as it's so hardwearing and easily washed. Martingale collars are a classic style loved by hound owners but they weren't something I understood at first. But now they're something we rely on as neither Josie or Edie can wriggle out of them which has been an issue in the past so we feel safe using a martingale. You do have to be careful if your dog likes to bound about full speed in the woods where their collar might catch on something but that's never something we've had an issue with. This particular style from Brindle & Whyte has double webbing which means it's pretty much impossible to tear which is ideal when you've got two hounds who like to pull at each other's necks on walks as ours do. Considering how much we've washed this it hasn't shown at all and it's still something we reach for every week when we know we're going on a particular muddy or wet walk. And the extra width is ideal for Josie's long neck and something I'd highly recommend for a greyhound or big lurcher.
brindle & whyte Atacama martingale collars (orange set gifted)
We have a couple of sets of the Acatama style collars from B&W. The beautiful orange Seville set was gifted from the brand last year and then we bought the silver and granite collar and lead set ourselves earlier this year. Again, these are the classic martingale style made from super soft but sturdy webbing which is perfect for sensitive hound necks. The webbing style on these is different from the other B&W collar we have but is still sturdy enough. Edie has struggled with fur loss on her neck quite badly in the past but that hasn't been an issue since switching to these collars. The only downside is the brass hardware tarnishing but that is easily sorted out with some Brasso and some masking tape as you don't want to get any on the material as it will stain. We have the matching leads to the silver & the granite set and they're beautiful, comfortable to hold for long periods of time, washable and are easy to wrap up or put around your neck on walks which is an odd requirement but some leads can be so bulky to carry.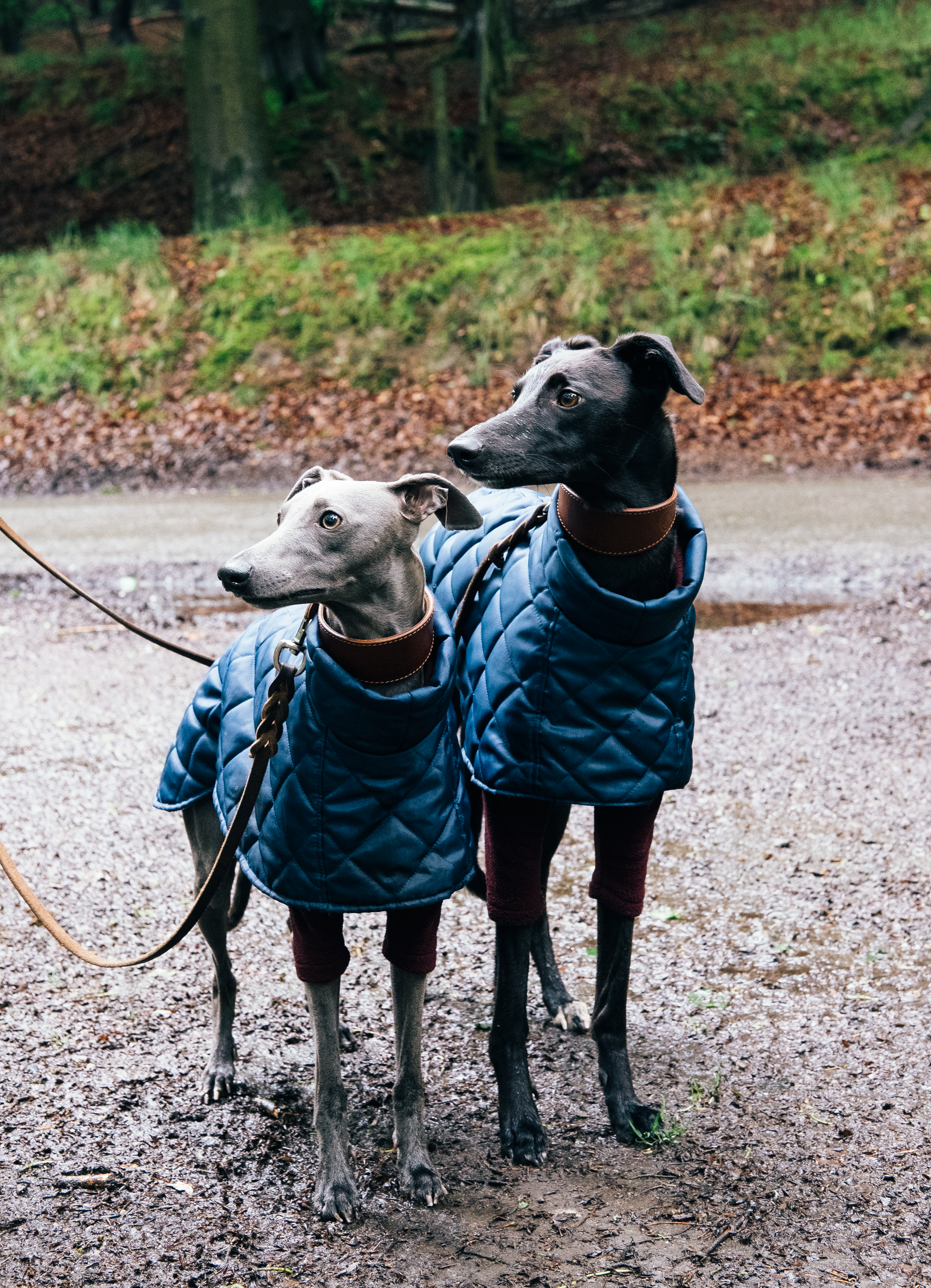 the trendy whippet rustic brown leather collar
The most traditional hound collars we own come from The Trendy Whippet and I absolutely love them and I think the price point of them is fantastic. They're a beautiful rustic brown leather with soft suede padding on the inside which is key for Edie and her sensitive neck. They look super smart on and they're practical too, we've got a few scratches on ours but with a little bit of leather polish they come up so well. My favourite thing about leather is how nicely it ages and also how easy it is to clean as Josie has rolled in a disgusting amount of fox poo this summer and it's all been easily wiped off. These collars match perfectly with our most loved leads from Amazon which are an absolute steal and have worn so beautifully well over the past year.
Any hound owner will know how difficult it is to find a harness that fits their deep chests and slender necks. We'd seen a few dogs on Instagram with the Perfect Fit harnesses and decided they looked like they would be good for us. Luckily a somewhat local pet shop is a stockist of these harnesses which is perfect as I do really recommend getting them fitted in person to get a really good fit for your dog. It is important to note that they're not escape proof but that isn't too much of a worry for us as the girls are generally off lead anyway. These harnesses come in 3 different pieces (you can pick different colours for the top) meaning you can mix and match your sizes depending on your dog and you can literally find your perfect size as well as change pieces if your dog is still growing. There is a lead ring on the top as well as on the front which is ideal if your dog pulls as it's a great training tool to help them stop. We used our multipurpose lead from Fetch & Follow with Edie and it helped her almost completely stop pulling in such a short space of time. They're fleece-lined and we've not had any issues with any rubbing or soreness which is a worry as hounds are known for having thin sensitive skin. They're not the cheapest harnesses on the market but they're undoubtedly the best that I've found for us but I know Ruffwear come highly recommend for sighthounds too. Kerry over at Fur & Fables has a great review of them.
what accessories do you love for your dog?