The Best Of My Beauty Stash Right Now
-this post contains PR samples-
I've finally got out of my rut with beauty, hooray! I hadn't switched things up in a little while and as much as I'm a creature of habit sometimes it's good to have a change of scenery and these are all the beauty products that I'm digging right now.
IT Cosmetics bye bye under eye concealer (gifted)
Under-eye concealer isn't something that I'm fussy with, as long as it doesn't crease than I'm generally pretty happy with anything as I don't suffer badly with dark circles but I do like to add some light to the area and this conceals and brightens. Much like the name suggests, this is a very full coverage product which is why you only need a small amount to achieve an opaque finish. I use this in the shade light and I find that it does brighten things up quite a considerable amount without the use of shimmer or glitter. Despite being thick in consistency it's easy to work with whether you use a brush or your finger to blend it in and I do prefer to use this before any foundation, as I do with any concealing products. I can't say much about it being waterproof but it lasts all day without any setting powder which in the recent heat we've had is quite remarkable. A pricey concealer but with how little you need you'll get a good amount of use from this.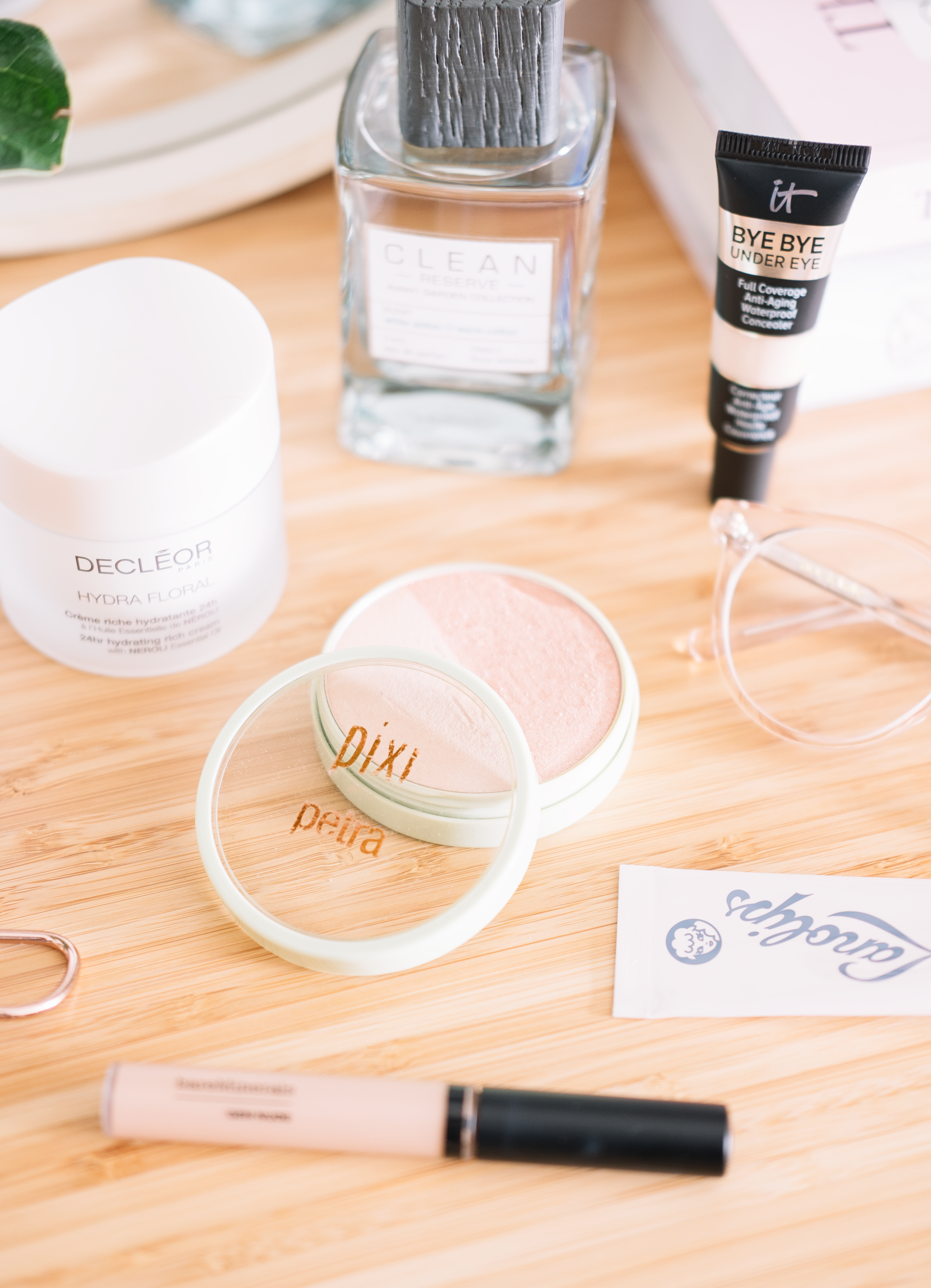 pixi by petra beauty blush (gifted)
I've had this beautiful peachy powder in my stash for a good few years now and when the warmer months roll around I always find myself reaching for it as it's the epitome of a healthy glow. Typically I'm not a peach lover but when I've had a little bit of sun on my skin I do find it's a little more of a flattering shade. You can either swirl your brush in this or use each side for different things, which is what I prefer to do. I use the more peachy side all over the cheek and then dab my brush in the more champagne side for a highlight and it's the perfect combination. I love this on the cheeks but you could easily use it on the eyes too to create a simple multidimensional look. If you have particularly oily skin and large pores then this may be a little too shimmery but otherwise, it's a summer staple for me.
bareminerals GEN NUDE EYESHADOW + PRIMER (gifted)
You know a product has to be good to make me reach for it over my beloved Too Faced Champagne Shadow Insurance which has to be one of my most used products ever and there's still no sign of me being anywhere near done with it. However, I received this awesome product from bareMinerals when I did some work with the brand over on Instagram and instantly fell in love with it. It creates a smooth even base that you can either leave on its own as it takes away any discolouration you might have on the lid but it's wonderful under any eye shadow too. The reason why I love eye primers so much is that my eyelids can be quite sallow and veiny which can show through under eyeshadow but this helps a lot. I also find my lids can get a little oily making shadow melt and crease quickly so having that extra layer is beneficial for keeping my shadow in place.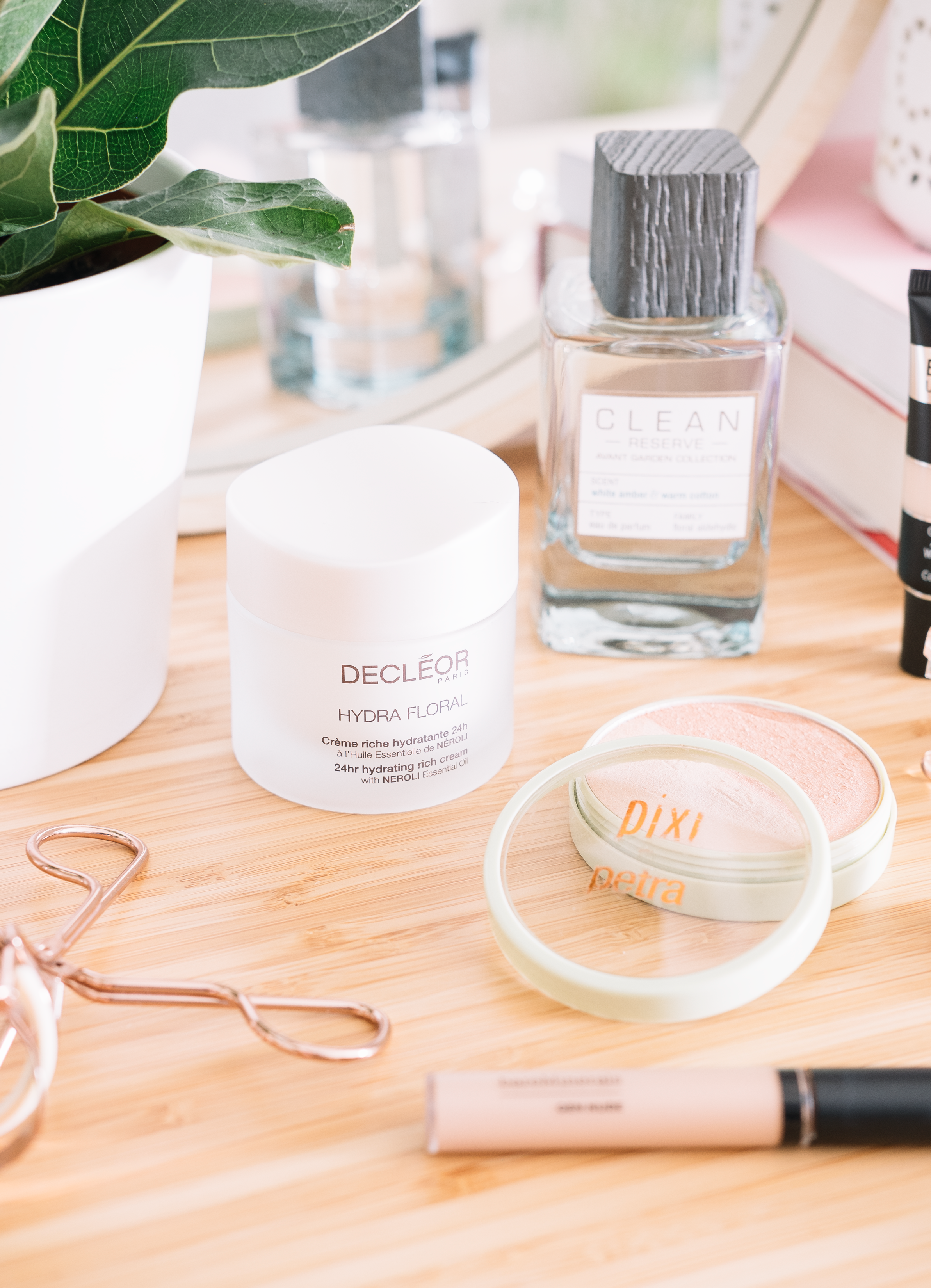 decléor hydra floral 24 hour hydrating rich cream (gifted)
Typically in the warmer months, I wouldn't use something as hydrating as this but my skin feels like it's changing quite a lot at the moment. Things aren't anywhere near as combination as they used to be, I certainly still have my oily days but in general, things are pretty normal but I tend to like my moisturisers to be quite rich. And that's exactly what this cream is, it's what I've been using in the morning (it could be happily used in the PM too) and when the weather has been all over the place it's been such a comfort. It's super nourishing but it's not too thick, infact it's pretty lightweight and it sinks in quickly. My skin feels beautifully soft and nourished all day when using this, maybe not 24 hours but at least 12. The only downside I can find to this is that much like the name suggests it has got quite a strong floral scent which will be an irritant to some, it's not an issue for me and I quite enjoy the fragrance but I can see why it might be problematic.
clean reserve avant garden collection - white amber & warm cotton (gifted)
Despite being useless at describing scent I wanted to include this fragrance as it's been my go-to for the last few weeks. It's unlike anything else that I've ever worn before and the only way I can describe this is that it's like 'sexy, clean and warm laundry'. The notes are;
Top: aldehydes, cassis buds and green accord
Middle: jasmine petals, lilies and peony
Base: amber, clean woods and musk
Even though it's got a few floral notes it's far from your typical floral fragrance and I find the most distinguishable take away is the warm cotton. It's a beautiful day scent and the longer it's on the skin the longer the better it is and it wears so well too, it's something you can still detect the next day which is when you know a scent has good staying power.
what beauty products are you enjoying at the moment?